Highway Patrol Division Commander
Major Ron Casey
Highway Patrol Commander
One State Police Plaza Drive
Little Rock, AR 72209
(501) 618-8800
The command authority of the department's Highway Patrol Division is under the authority of the Highway Patrol Commander.
Click an area on the map to the left to view the Troop Commander for each area.
Highway Patrol Troop Commanders
Captain Jeff Sheeler
Troop A
One State Police Plaza Drive
Little Rock, AR 72209
501-618-8282
Counties Served: Pulaski, Faulkner, Lonoke, Saline
Captain Todd Shaw
Troop B
3200 Highway 367 North
Newport, AR 72112
870-523-2701
Counties Served: Cleburne, Independence, Jackson, Lawrence, Sharp, White
Captain John Carter
Troop C
2216 Browns Lane Access Road
Jonesboro, AR 72403
870-935-7302
Counties Served: Clay, Craighead, Greene, Mississippi, Poinsett, Randolph
Captain David Moore
Troop D
3205 North Washington
Forrest City, AR 72335
870-633-1454
Counties Served: Crittenden, Cross, Lee, Monroe, Phillips, Prairie, St. Francis, Woodruff
Captain David Williams
Troop E
6816 Princeton Pike
Pine Bluff, AR 71602
870 247-1483
Counties Served: Jefferson, Arkansas, Lincoln, Desha
Captain Rick Neill
Troop F
1237 North Myrtle
Warren, AR 71671
870-226-3713
Counties Served: Ashley, Bradley, Calhoun, Chicot, Cleveland, Dallas, Drew, Ouachita, Union
Captain Brady Gore
Troop G
2501 North Hazel
Hope, AR 71801
870-777-4641
Counties Served: Columbia, Hempstead, Howard, Lafayette, Little River, Miller, Nevada, Sevier
Captain Chris Goodman
Troop H
5728 Kelley Highway
Fort Smith, AR 72914
479-783-5195
Counties Served: Crawford, Franklin, Logan, Scott, Sebastian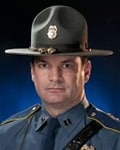 Captain Wesley Smithee
Troop I
5196 US 65 South
Harrison, AR 72601
870-741-3455
Counties Served: Baxter, Boone, Fulton, Izard, Marion, Newton, Searcy, Stone
Captain Kyle Drown
Troop J
2700 West Main
Clarksville, AR 72830
479-754-3096
Counties Served: Conway, Johnson, Perry, Pope, Van Buren, Yell
Captain Scott Joe
Troop K
200 Karen Street
Hot Springs, AR 71901
501 767-8550
Counties Served: Garland, Clark, Grant, Hot Spring, Montgomery, Pike, Polk
Captain Scott Russell
Troop L
1120 W Monroe Ave
Lowell, AR 72745
479-751-6663
Counties Served: Benton, Carroll, Madison, Washington
Remember to Move Over and Give a Lane!!
Arkansas law enforcement officers ask that you help protect them when they have a vehicle stopped along a multi-lane divided highway.
When approaching a law enforcement vehicle with its emergency lights activated and parked along the shoulder of the road, it is the law that drivers of vehicles passing the officers move to the furthest lane of traffic away from the officer's patrol car.Watch this video and learn about the dangers Arkansas State Troopers face when stopping a vehicle along a divided highway.
Highway Patrol Services
Fatal Crash Summaries
Information obtained from an Arkansas State Police fatal crash summary represents only the initial findings by an investigating law enforcement officer. The summaries are not considered official reports of a highway crash investigation, but merely a summary of preliminary information Read More >
Driver Examination
Each highway patrol troop commander is responsible for establishing a regular schedule of driver's license testing in each of the troop counties. Hover your cursor over and select the area on the map below to determine your county's troop headquarters and download the PDF document for Read More >